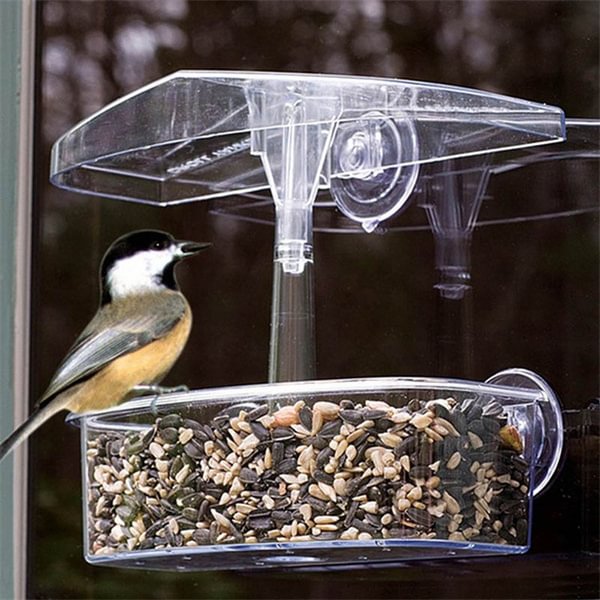 Features
Attract More Birds: Our window bird feeder is made of acrylic with high transparency. You can lie on the comfortable sofa at home, drink coffee, enjoy the fun of birds outside the window and feel the charm of nature. Our outdoor window bird feeder will be your best choice.
Just the Right Size: To create a clean restaurant for it, this bird feeder has two 250ml seed feeding tanks with drainage holes. The parameters of overall dimensions are about 21*9.5*16.5cm/8.27*3.74*6.50inch. In addition, strong suction cups will be attach this bird feeder to the surface of window firmly,Bluebirds and other birds with colorful feathers will appear in front of you! Let the children and pets under the window have zero distance contact with the birds and feel the nature.
Convenient & Fast Cleaning: Removable tray. Just remove the tray and discard any residue and old seeds. You can also quickly wipe the surface with a rag or rinse directly with water. You do not have to worry about the seeds getting dirty when they get wet. We made drainage holes in the tray and main feeder to keep seeds dry.
Great for Birds Watching: When you and your children watch the birds, this bird feeder will bring you a lot of happy time. It is also the best gift for parents or grandparents. Provide hours of healthy living for all. Note: to make it a squirrel proof bird feeder, please install it on the window away from the jumping point.
Ideal Gift: Whether for a nature lover, a bird aficionado, children, parents, family pet or that special someone, this bird feeder makes for a great gift for the holidays, a birthday, housewarming and more. When your friend or family member receives the bird feeder as a gift, he will be too much satisfied and surprised.
Specifications
Name: Bird Feeder
Material: PC
Size: about 21*9.5*16.5cm/8.27*3.74*6.50inch
Packing List
#All hummingbird feeders #Clear window bird feeder # squirrel proof bird feeder # mary's hummingbird feeder #All bird feeders