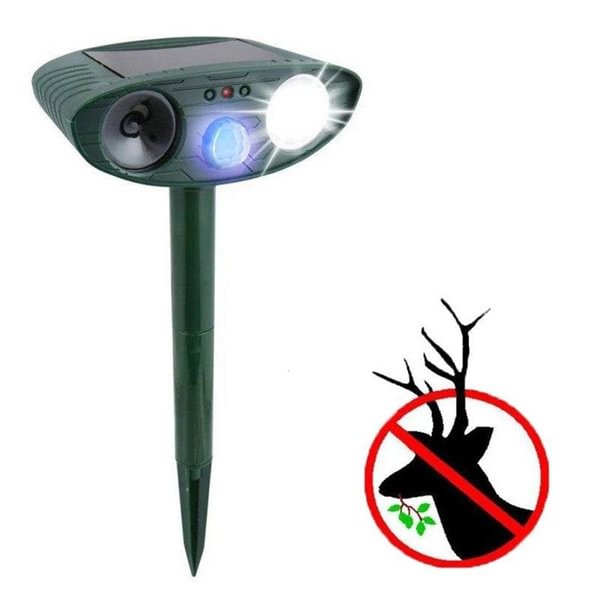 ABOUT
We're all tired of animals coming into our homes and ruining the gardens we worked so hard on. This revolutionary Ultrasonic Animal Repellent protects any open area in a garden that receives unwanted visiting animals. Motion-activated technology delivered 2.5s of ultrasonic waves, which are just enough to scare the animal away without hurting it.

The unit emits sound waves at a frequency that is only audible to Animals. Keep deers and unwanted pests out of your garden. Ideal for protecting lawns, bird feeders, flower beds, ponds, and pathways.
BENEFITS
GET RID OF DEERS IN 48 HOURS
SAY GOODBYE TO UNWELCOMED DEERS! With the help of Pest Destruct - Ultrasonic Deer Pest Repeller you can get rid of Deers within 48 hours. Coverage Area: 30 feet to 2425 square feet.

GET RID OF deers, dogs, cats, foxes, raccoons, mice, skunks, squirrels, and more with the help of this Solar Power Ultrasonic Cat Dog Repeller Outdoor Garden Infrared Sensor Animal Scarer!
THE PASSIVE INFRARED SENSOR (PIR)
Detects motion and triggers the ultrasonic speaker to produce a tone that humans cannot hear to drive unwanted creatures away. This repeller is effective in a large area of up to 2425 square feet. Since it is powered by solar. No batteries or electricity is needed. And it is perfectly suitable to use in the garden, yard, and lawn, don't hesitate to get one!
CHEMICAL-FREE!
Protect your home from unwanted Deer without the use of dangerous and messy chemicals, pesticides, sprays, or traps that can harm you, and your family. No Dead animals!


ENVIRONMENTAL FRIENDLY AND EASY TO USE
Naturally drives Deer and other animals out without killing them. Made of anti-UV and waterproof material, suitable for all weather conditions. SOLAR energy technology, charge itself under the sun, wireless and rechargeable. Don't worry about getting new batteries anymore! Repeller features FLASHING light to scare the animals.
WATERPROOF& ENERGY-SAVING
Powered by solar energy with a solar panel on the top of the device, cordless and rechargeable, high efficiency, and low power consumption. All-year-round and virtually all-weather conditions are still 100% working. With 110 degrees angle of detection, it is important to consider the most suitable rotation for maximum coverage. So, you don't have to worry about it not working properly due to an insufficient power supply.



NEW EFFECTIVE TECHNOLOGY!

The Pest Destruct - Ultrasonic Deer Repeller uses improved electromagnetic technology to protect you from unwanted animals and pests. It emits a range of powerful, deep-penetrating ultrasonic sounds to scare away a wide variety of pests and animals. Equipped with an infrared motion sensor, the repeller is activated as soon as an animal is detected.


CAN BE USED EVERYWHERE
Features
PIR can detect motion within a 30ft (9.14m) radius.
Double ultrasonic speakers. each unit covers a 110-degree arc and a 30ft ground area.
Harmless to humans. animals. and pets.
Ultrasonic Frequency 18-40KHz.
2 STEPS TO USE



OUR GUARANTEE
We aim to be the #1 provider of the best quality online shopping experience for you. We are 110% committed to making sure you are completely satisfied. :)