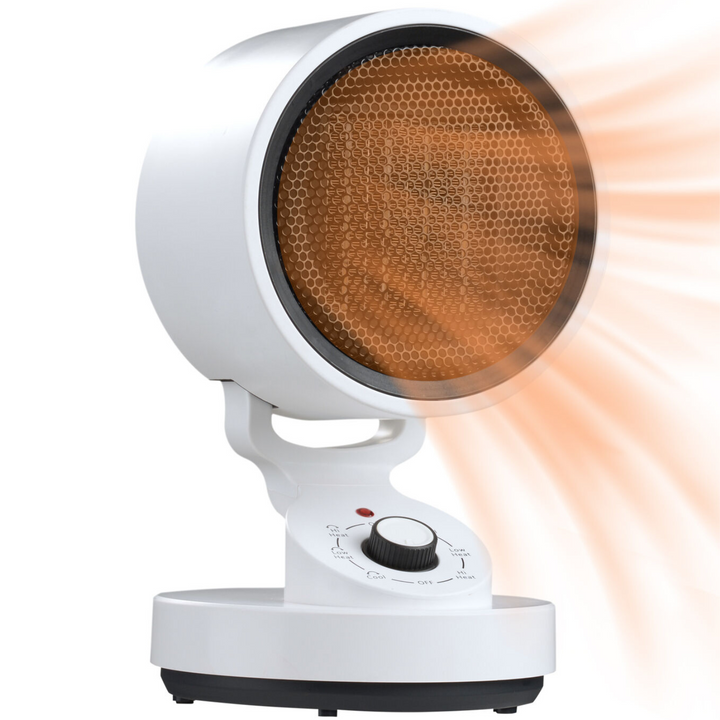 Powerful Oscillating Portable Home Electric Space Heater 1500W
Stay warm wherever and whenever by powering up our ultra-convenient space heater. Even with its compact and lightweight design, the portable heater produces enough warmth to heat up your surroundings.
This amazing portable electric heater boasts a flexible head that can be adjusted to meet your needs. This way, you can direct the heat produced by the portable space heater toward any direction without having to fully move it.
Plus, this large room space heater comes with multiple heating modes so that you can choose which suits you best. Not only that, but the portable room heater boasts an oscillating feature that helps spread heat throughout the whole space.
Best part of all, the safest portable heater comes with a dual hot and cold function. This makes it perfect for year round use!
SPACE HEATER FEATURES
Make any room feel extra warm and cozy during the winter time with our powerful portable heater.
Dual Purpose cooling fan and heater
Extremely compact and easy to carry around
3 temperature modes: High Heat(1500W), Low Heat(900W) & Cool Fan(10W)
Supports a flexible oscillating feature
4-level adjustable fan head
 Built with a durable ABS shell
Made with flame-resistant material
Automatic shut off when overheating
Use at home, work, or while traveling
PORTABLE ELECTRIC HEATER SPECIFICATIONS
Overall Dimension(LxWxH): 13 9/16" x 8 1/16" x 8 1/16" (34.5 x 20.5 x 20.5 cm)
Base Dimension(DiaxH): 8 1/16" x 2 3/16" (20.5 x 5.5 cm)
Fan Head(DiaxH): 7 7/8" x 5 7/16" (20 x 13.8 cm)
Cable Length: 61 15/16" (157.3 cm)
Voltage: 110V / 60Hz
Power: 1500W (High Heat), 900W (Low Heat), 10W (Cool Fan)
Material: ABS, Ceramic
Color: White
Net Weight: 4.3 Lbs (1.95 kg)
PORTABLE SPACE HEATER PACKAGE CONTENT
1x Large Room Space Heater