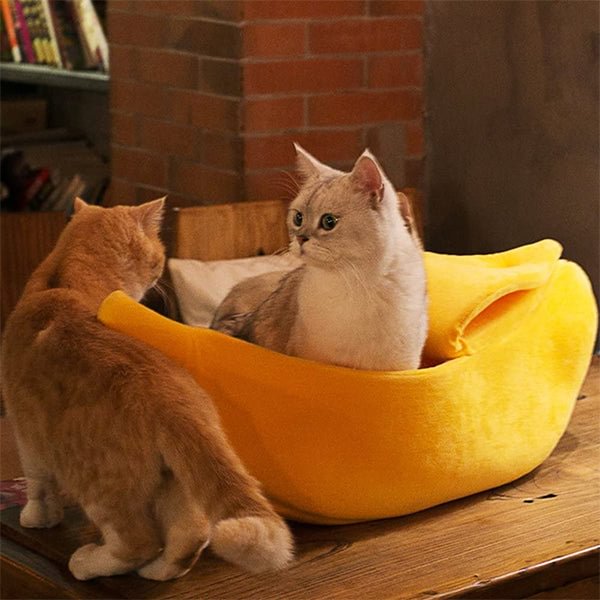 This is probably the cutest thing you can get for your cat! Cats are obsessed with this new Banana Kitty Bed and we think you will be too!





IT'S PLUSH

This super cute, super soft banana will keep you and your cat entertained day after day!   Cats go bananas over this Banana Kitty Bed. The sturdy stitching and plush yellow make for the ultimate catnap and a game of hiding and seek.






THE ULTIMATE CONVERSATION STARTER

It's always a crowd-pleaser when guests come over. It's a great ice breaker and fun for everyone. The funny banana design and sturdy construction are great for cats of all ages and ensure a comfortable fit.  Choose the Banana size that fits your kitty for the best results! Comes in a variety of sizes to fit your cat perfectly!  



WHAT'S CUTER THAN SEEING YOUR KITTY COZY & WARM IN A PLUSH BANANA!



      

Materials  

Velvet and Coral Fleece

CHOOSE THE PERFECT SIZE FOR YOUR KITTY
 
SMALL Suitable for pets under 1.3kg (3 lbs) : 
Length 40cm x width 15 x height 10cm / 15.75" x 5.91" x 3.94"


MEDIUM Suitable for pets under 5kg (11 lbs):
Length 55 x width 20 x height 15cm / 21.66" x 7.88" x 5.91"


LARGE Suitable for pets under 10kg  (22 lbs):
Length 65 x width 25 x height 18cm / 25.6" x 9.8"' x 7.09"