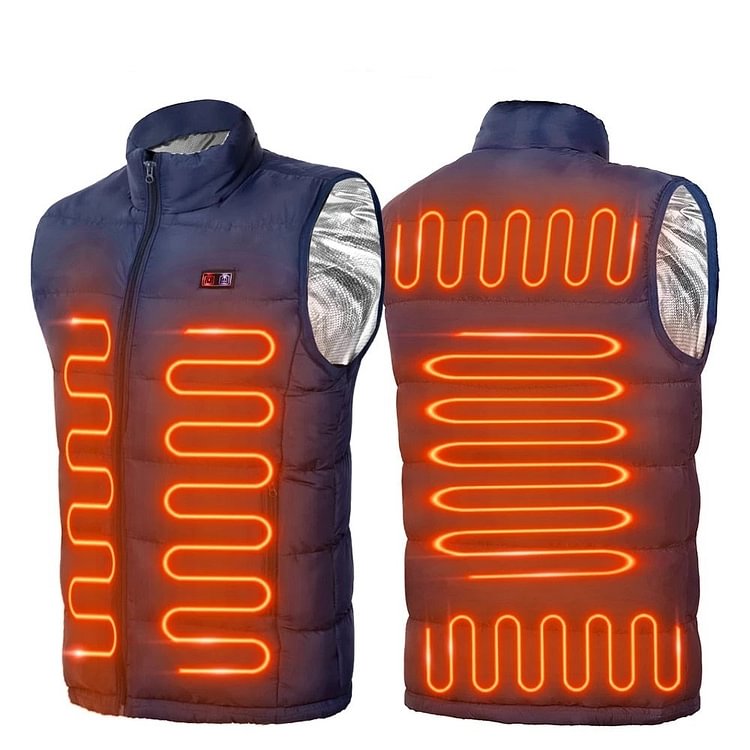 The Vest That Takes
the Chill Out of Winter
Looking for a little extra warmth this winter? This Electric Heated Vest is perfect for when the temperatures start to drop. The USB-powered vest features a waterproof outer shell, a cozy fleece lining, and 9 strategically placed built-in heating elements that provide targeted warmth to your core. Keeps your hands warm with our dual pocket heating zones and features three different heat settings, so you can customize the level of heat to your needs.

Perfect for Daily Commutes
Whether you're headed out for your daily commute, a walk in the park with your dog or just running errands around town, our Heated Vest will be your go-to piece to stay warm. and best of all, it's machine washable for easy care. 
To stay even toastier (is there such a thing?), layer with a jacket or sweatshirt. So don't let the cold weather stop you from enjoying your time outdoors - grab an Electric Heated Vest and stay warm and toasty all season long!
Why this Electric Heated Vest rocks:
9 Heating Zones:

 

carbon fiber heating elements located in the left & right pocket, collar, and full front & back panels to generate even heat distribution heat across core body areas
3 Heating Settings:

 

One button for 3 heating settings switch

 between high, medium & low with just a simple press of the button
USB Charging: Easy to charge. You need to always connect5V2A mobile power (this product does not include mobile power). The mobile power needs to be removed during washing.
Safe to use: Only 5V far infrared heating, far below the human body safety voltage 36V. Stable heat and body safety voltage. Suitable for warming the abdomen and waist area.
The enhanced filling and heating elements provide you with perfect long-lasting warmth.
Heated Vests are lightweight, yet insulated, so you can wear them with or without a jacket.
Durable fabric and carbon fiber heating elements are completely safe for hand and machine washing.
Heated Vest for men & women
Heated vest not rechargeable: Requires mobile power; pairs well with 20000 mAh power bank battery


Package Includes
1 x Electric Heated Vest (Requires Portable Power Source)