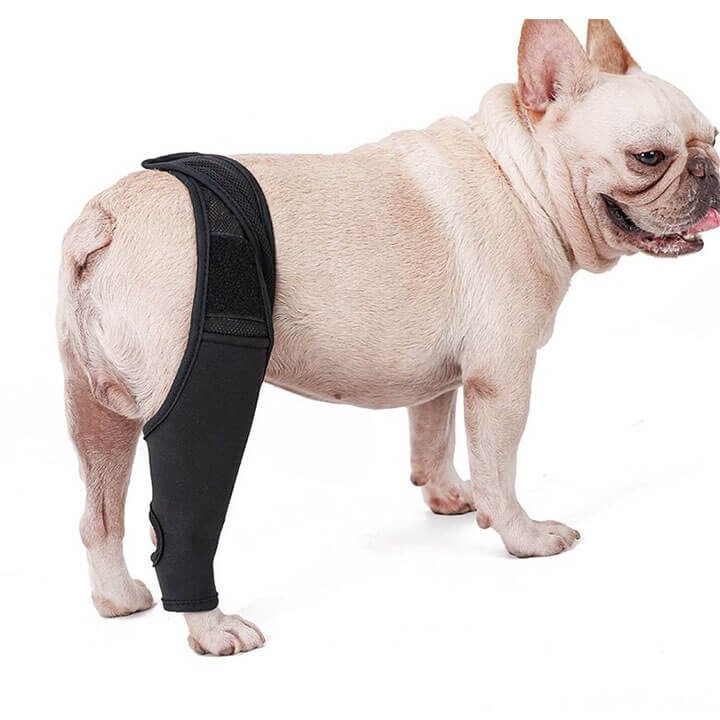 Knee Brace for Dogs ACL with Side Stabilizers,Knee Cap Dislocation, Arthritis - Keeps The Joint Warm and Stable - Extra Support - Reduces Pain and Inflammation
Features:
1. Can be used on both left and right leg
Whether the wound is on the left or right side, this dog leg braces provides good protection.
2. 360º support
The auxiliary belt of this knee brace for dogs for legs can ensure stability and improve the balance between the muscle groups to provide comprehensive support and prevent the injury from evolving into a more serious situation.

3.
relief the pain
This dog acl brace helps reduce inflammation by increasing joint temperature and relieves pain caused by cruciate ligament injuries, osteoarthritis and kneecap problems.

4. Put on a protective cover to protect the joints
The dog knee brace provides protection and stability, helps to protect the wound after the operation, stabilizes after fatigue injury and recovers from the arthritis of the hocks, to prevent the dog from licking or touching water to cause secondar
5. Fast recovery
Optimal joint temperature can increase blood circulation, improve oxygen delivery, and improve performance to speed up recovery with this dog braces for legs.
Why are prone to knee problems in dogs?
There is almost no fat and muscle at the joints of the forelegs of dogs, and they are almost covered by skin. When the dog is lying on the ground or lying on its side, the front leg joints will be pressed tightly on the ground. When it lies on the ground, the weight of the upper part of the dog's body is pressed on the joints of the two front legs when lying on its side, and a small joint bone on the side will also make the skin soft and rub the ground. If this situation persists for a long time, it will have a certain impact. Some dogs with larger body and longer legs tend to fall heavily when lying down. The two front legs. The joints will be smashed heavily on the ground without the knee brace for dogs, which is also the cause of the joint disease of the dog's front legs.
The dog braces for legs taking care of your dogs joints to help prolong their longevity and quality of life is a must. Wear and tear on the joints can be helped just by adding a little supplement into their food everyday.

The dog acl brace help to protect their joints and minimise damage to help keep them mobile and pain free for as long as possible!
Product Details: