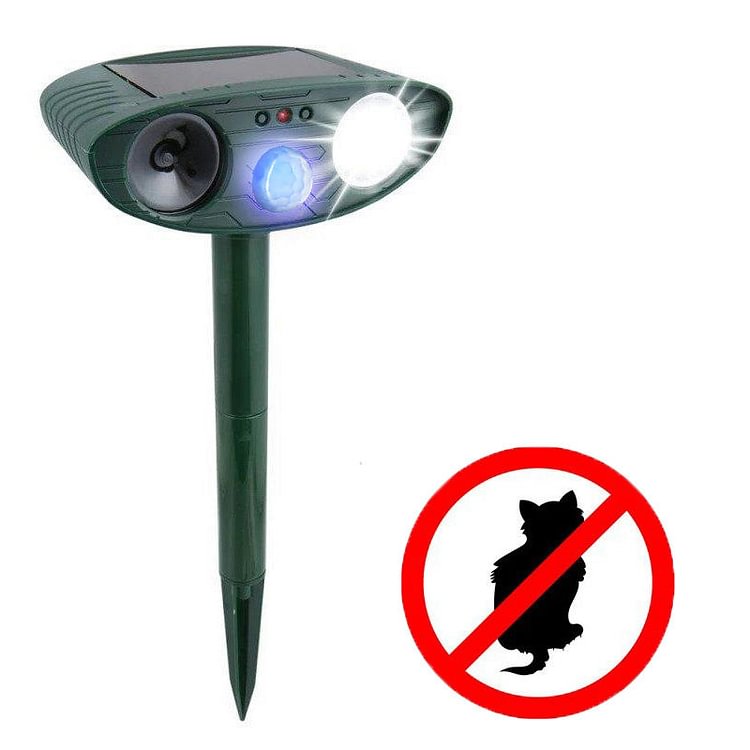 Looking for the Most Effective Way to Get Rid of Neighbor's Cats?
Has the sound of cats yowling in distress become too much? Are they keeping you up at night with their yowling and hunting every mouse that walks by?
The neighbor's cats are always meowing. You can't take it anymore!
Well, say goodbye to your problems with the Ultrasonic Solar Cat Repeller!
This great product will get rid of cats within 48 hours, and has a coverage area of 30 feet and up to 2425 square feet, making it ideal for large spaces. So say goodbye to your neighbor's cats problem with this repeller – and rest easy knowing that your can finally have a good night sleep.
How does it work?
Using powerful ultrasonic sounds, this repeller will scare away a wide variety of pests and animals including cats, without harming them, giving you the peace of mind you need. Additionally, the infrared motion sensor ensures that the repeller is activated as soon as an animal is detected, providing you with maximum protection. Don't let pests and animals ruin your day!
This bad boy is solar-powered, meaning it's environmentally friendly and easy to recharge. Plus, its flashing light is guaranteed to scare away any animal that comes near. Scare cats away and keep your house cat-free!
Made of anti-UV and waterproof material, it's suitable for all weather conditions.
When it comes to pesky cats, the Ultrasonic Solar Cat Repeller is your new best friend! This Chemical-Free, mess-free way to keep cats away from your house doesn't rely on dangerous pesticides or traps that can harm you, your family, or cat that is bothering you. It's solar powered meaning it's always working – even when you're not at home.
Product Size: 5.6" x 5" x 3.75"
Spike: 12.6"
Package Size: 6.06" x 5.70" x 3.95"
Weight: 0.68 Lbs.