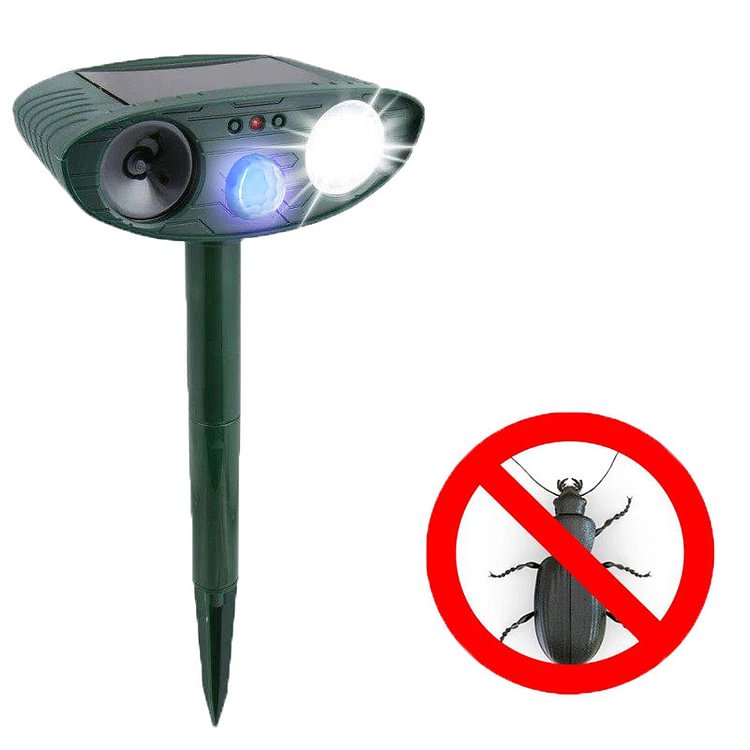 Looking for the Effective Way to Get Rid of Beetles From Your Yard?
Are the Beetles Getting Out of Control? They love you roses. You can't even go near them without being stung and itchy all over, not to mention that they leave behind these dirty little bugs which make you very uncomfortable when trying to have dinner with family in the evenings. Is the problem continuing day after day?
Well, we have a solution, say goodbye to your problems with the Ultrasonic Solar Beetle Repeller!
This device uses ultrasonic waves to repel beetles, without using any harmful chemicals or pesticides. Simply place the repeller in your garden or yard, and let it do its magic! The solar-powered battery means that you'll never have to worry about recharging or replacing it.
How does it work?
Using powerful ultrasonic sounds, this repeller will scare away a wide variety of pests and animals including beetles, without harming them, giving you the peace of mind you need. Additionally, the infrared motion sensor ensures that the repeller is activated as soon as an animal/pest is detected, providing you with maximum protection. Don't let pests and animals ruin your day!
This bad boy is solar-powered, meaning it's environmentally friendly and easy to recharge. Plus, its flashing light is guaranteed to scare away any animal that comes near. Scare beetles away and keep your garden and yard beetle-free!
Made of anti-UV and waterproof material, it's suitable for all weather conditions.
When it comes to pesky beetles, the Ultrasonic Solar Beetle Repeller is your new best friend! This Chemical-Free, mess-free way to keep beetles away from your house doesn't rely on dangerous pesticides or traps that can harm you and your family. It's solar powered meaning it's always working – even when you're not at home.
Don't be a beetle's prey! Get the beetles out of your life today.
Product Size: 5.6" x 5" x 3.75"
Spike: 12.6"
Package Size: 6.06" x 5.70" x 3.95"
Weight: 0.68 Lbs.