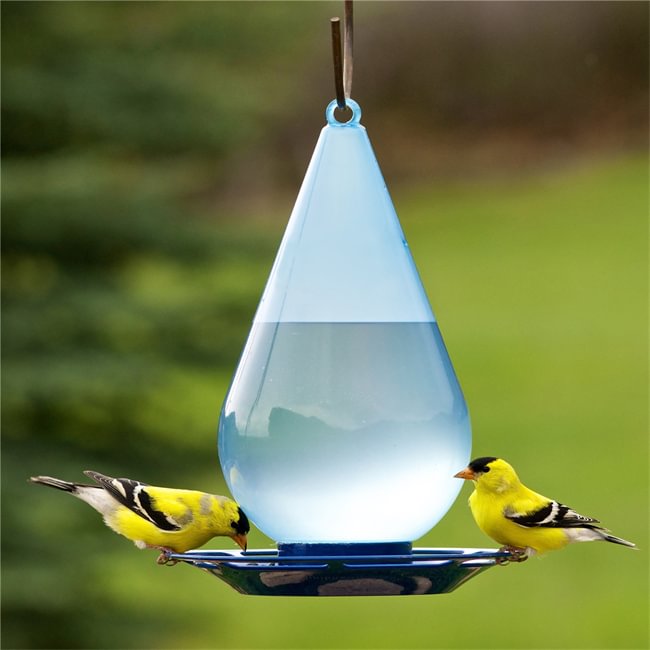 As a new generation product of Garden World, it is made of the latest pp material and made of polypropylene, which resists most of the impacts. It can be hung or placed on the ground stably, and feeding is worry-free.


🦅 Large Capacity Wild Bird Waterer: Gray-blue Water Cooler features 22 Ounce water/ nectar containers, durable ABS plastic base, wire hanger included.
🦅 Offering Water to Wild Bird: This waterer makes an excellent complement to bird feeders. By offering water in addition to a food source, you will attract a larger variety of wild birds to your yard, including those that don't eat seed, like Bluebirds, Swallows, and Warblers.
🦅 Easy to Install: Rotate the container into the base until it is fixed. With a metal hanger, this Bird Waterer could be easily hung on the tree or hanger.
🦅 Easy to Refill & Clean: Simply screw the container off the base for cleaning or refilling. Then you are ready to feed the wild birds.
How to clean the bird waterer
Remove the old water.
Soak waterer in a light water/bleach solution (90% water to 10% bleach).
Scrub waterer and allow to air dry.
Thoroughly wash hands after handling and cleaning the waterer.
Specifications


Material: plastic
Purpose: water
Size: about 18*18*20cm/7.1*7.1*7.9in
Application: water drinking or habitation for hummingbirds and othersharp-billed birds
Package
1 x Glass Wild Bird Waterer
1 x Hook
Note
While the container can go in the dishwasher, we recommend cleaning it by hand.