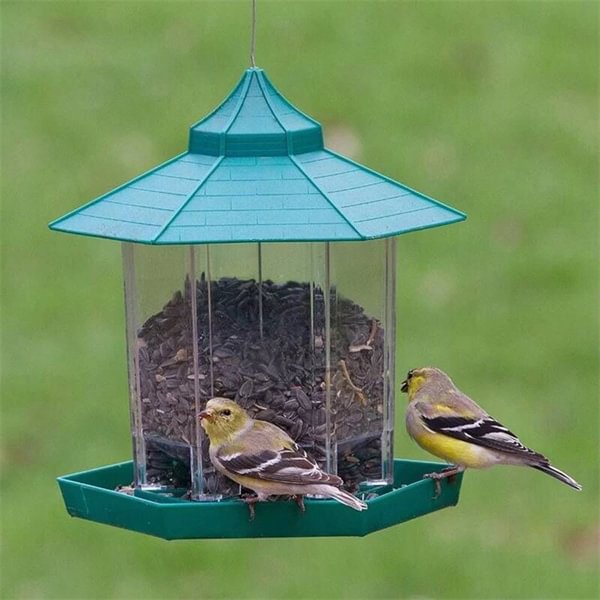 Features
Exquisite Plastic Bird Feeder: Our bird feeders stations is made of high-quality plastic, corrosion-resistant and durable. Hanging bird feeders will definitely attract the attention of birds. When the birds inhabit and enjoy the seed food, you can watch the birds from the window, balcony or rooftop.
Unique Gazebo Design: Hexagonal gazebo bird feeder design with sloping roof to shield birds from sunlight and rain. bird feeders stand allows birds to eat from all angles. After eating the seeds, more seeds food will naturally fill the tray.
Big Bird Feeder: Large capacity wild bird feeder will hold up to 2.6 pounds of seeds. It can be filled with various seeds to attract birds, such as peanuts, sunflower seeds, flower seeds to attract cardinals, tits, pigeons, magpies, bluebirds, warbler, starlings, etc.
Easy To Fill & Clean: Squirrel proof bird feeder is equipped with a twist lock cover, and the transparent plastic body makes you know when to refill the seed food. So just open the cover and refill the seeds. Also, the wide opening and detachable box are easy to clean.
Hanging Bird Feeder Outside: Bird feeders for the garden comes with an assembled wire rope hook that you can hang it in the courtyard, garden, terrace, backyard and corridor to make your life more colorful.
Specification
Condition: 100% New High Quality
Material: Plastic
Size: 17.5*20*24cm
Conversion: 1 inch = 25.4mm or 1mm = 0.0393 inch
Color: as the photo
Weight: 400g
Quantity: 1PC