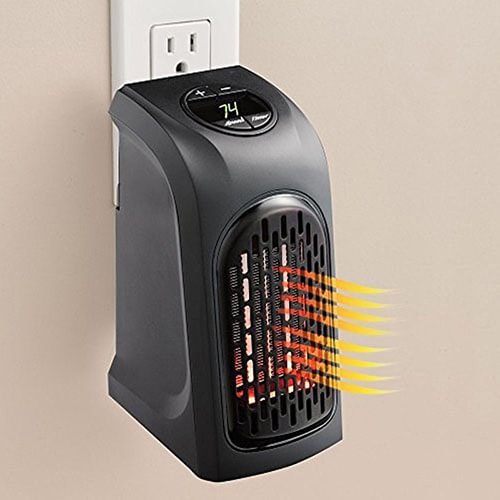 "Wow! I can't believe how well this compact heater warms up my bedroom."
~ Darren D., Nueby customer
Stay warm this winter no matter where you are
Quick And Easy Heat - plug in handy heater directly into an outlet, then you can use it everywhere. Great for a small space or room in winter.
Programmable 12-hour timer, auto Shut-Off Timer with Safe-to-the-Touch Housing.
It has a digital thermometer that adjusts from 60-90 degrees, Stay-cool plastic housing protects a safe, ceramic heating element.
Adjustable Thermostat - two speed settings to circulate air and cover up to 250 square feet.
Cordless, Compact and Portable for Warmth in Any Room.
"This amazing little heater works awesome in my RV. It keeps the entire rig, warm."
~ Dottie W., Nueby customer
Take your own personal heater wherever you go
Fast Results: The Cozy Compact Heater takes the chill out of the room within 15 to 20 short minutes.
Cost-efficient: Save money when the Cozy Compact Heater warms up living spaces instead of having to turn up the dial on the thermostat.
Lightweight Design: The Cozy Compact Heater is easy to move from room to room an very simple to use. No cables or installation required.
Convenient: Adjustable thermostat, digital temperature display, auto-shut-off, quiet operation, US standard plug, and programmable timer.
✓ Portable heater keeps you warm and cozy in any room of your home
✓ Plug and play, just plug it in the socket, no cable required
✓ Space-saving design fits into wall outlet plug that rotates 180 degrees to save space
✓ Powerful and intelligent: digital temperature display with timer functions and speed settings to circulate the heat
✓ Compact and great for travel
Specifications:
✓ Temperature Range: 16° - 32°C
✓ Applicable Area: 10 - 20sqm
✓ Material: PP, ABS
✓ Power: 350 - 400W
✓ Voltage: 110V
Included:
— 1 X Cozy Compact Heater