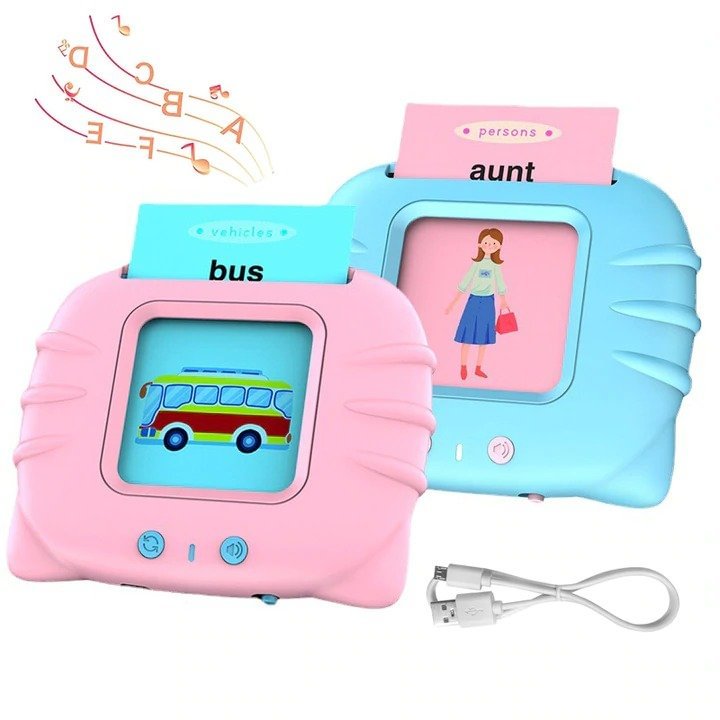 WHY KIDS NEED THIS!
Using great sound effects and colorful pictures, Pocket Vocab teaches both audio and visual recognition of essential words, perfect for preschoolers and early readers.
FEATURES
Pronunciation & Sound Effect
Pocket Vocab plays both the card's pronunciation and sound effect, so that your child can imagine the word in their head!
Perfect for Parents & Teachers
Teach new vocabulary and pronunciations at home or in the classroom.
Easy-To-Use
Simply insert a card into Pocket Vocab, and listen! Press the repeat button to play the sounds again!


Reduce Screen Time
Pocket Vocab has no screen! Your little ones will have reduced screen time while learning new words and having loads of fun!
Additionally, there are built-in buttons to adjust volume and repeat the sounds!
224 Unique Cards
Over 200 cards of animals, foods, people, and transportation come with Pocket Vocab!
Premium Quality Material
Pocket Vocab is made from a smooth premium plastic that is non-toxic and completely safe for children.


START LEARNING IN SECONDS!
Press the power button and the welcome message will play.
Insert any card to hear the word's pronunciation and sound effect!
PACKAGE INCLUDED