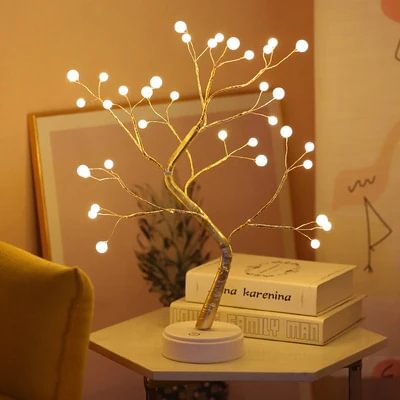 CREATE A CHARMING SPACE
Make your home your own fairy-tale. The magical look of the fairy light spirit tree will make your space look like an enchanted wonderland.
SOOTHING WARM LIGHTS
Radiate your home with a cozy, warm light and induce a homely sense of tranquility and relaxation.
THE PERFECT DECOR PIECE
Elegant yet useful, our Sparkly Trees can be placed in any room and radiate it with the perfect amount of light.
A MARVELOUS & UNFORGETTABLE GIFT
Wether it's for a holiday, birthday, anniversary or just because, our Sparkly Trees make an amazing gift they'll always remember.
HOW DO I CHARGE MY TREE? USB OR BATTERY?
Our Fairy Light Trees can be operated via two ways:
Universal USB wall charger or 3X AA Batteries.
WHAT ARE THE TREE'S DIMENSIONS?
The dimension for thr Fairy Light Tree are as follows:
Height:1.5ft / 18 inches / 46cm
Base Diameter: Approx. 4.7 inches / 12cm
ARE THE BULBS REPLACEABLE?
The bulbs are very tiny, and therefore can't be removed or replaced.
However, we make sure we're using top quality incandescent LED's that have a long life expectancy.
WHAT ARE THE DIFFERENCES BETWEEN THE 2 TREES?
We offer 2 options of our Fairy Light Spirit Trees:
Spirit Tree (108 bulbs)- Silver metallic finish.
Sunshine Pearls (36 bulbs)- Golden metallic finish.