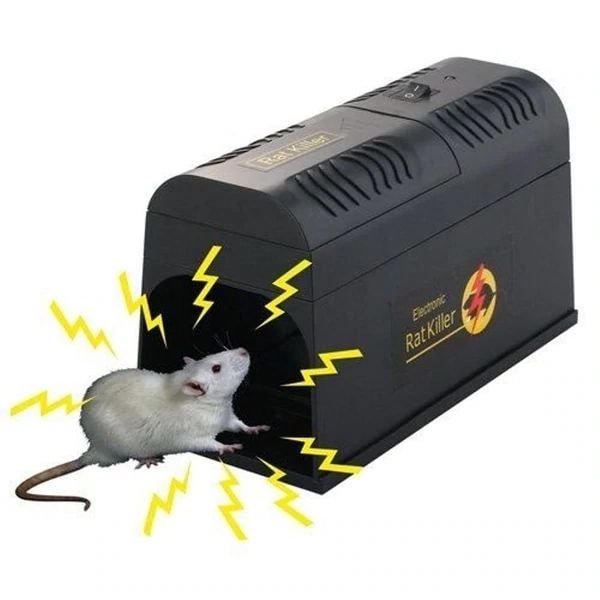 DUAL POWER OPTIONS
Electronic rat trap Equipped with two charging methods, AC adapter and 4"C" battery( not included). The charging cable is 45 inches long convenient to place the trap somewhere hard to reach to kill the mice.
HUMANE MOUSE TRAP KILLER FOR RATS
With a powerful electric shock, the electronic rodent zapper eliminates animals humanely and instantly, without any pain or suffering.
NO MESS, EASY TO DISCARD
Physically end the life of rodents without using any toxic chemicals,poisons.No blood and no need to touch the rodent.Just pick up the device and slide the dead body into the trash can.There you go,all clear.
WHAT BAIT TO USE?
Using foods mice love can increase the chance of catching mice. Please use scented foods such as nuts, biscuits, bread, meat, and fruits. You can also apply peanut butter on the bait, which is a temptation for mice. We provides our customer a 12-month warranty and excellent service. If you have any product problems, please contact us via email.
Note Items for Use:
1) The rat triggers metal plates when rodent enter the unit, and the unit emits high voltage shock immediately, the red light flashes. High voltage produced time is 4 minutes. Firstly it delivers high voltage last for 1 minute, later impulse electric-shock which imitating rat heartbeat 15HZ for each time and it continues for 3 minutes, then the high voltage shock stops, the light turns from red to green and flashes once every 5 seconds, here high voltage shock will not be produced until restarting the unit next time.
2) Every after solving the rat, press switch to "OFF" position (O) and remove case of the unit to clean the chamber, dry it under the sun, then it can be reinstalled to use.
3) )In the high voltage chamber, there are three metal plates, when a mouse or rat enters, it will conduct the charged electricity from one plate to another and will be killer instantly. To prevent incidental shock avoid contact with metal plates and the unit.
4) If red light and green light flash in a chain once every 2 seconds after power on or rat solving, indicating that the batteries should be changed with new to avoid affecting rat solving function. Turn off power before changing batteries.
5) Remove batteries from the unit if they are not required for extended periods of time in order to avoid damage to the unit resulting from a leaking battery.
Specification:
Power supply: 1.5V 4*"C" Battery
Low battery indicator: 4.8V±0.2V
Static work current≤50uA
High voltage working current≤380mA
High voltage: 6000-9000V
High voltage produced time: 4 minutes
Package Included:
1x Electronic Rat Trap
1x charging cable
1x Mouse trap manual